About Middleton Construction
Middleton Construction, Inc. began as a small residential contractor in 1978. At its start, we performed a variety of construction projects. Over the years concrete construction became our forte.
While performing concrete flatwork, we realized the need to incorporate a foundation division. The acquisition of a neighboring foundation company in 1989 secured Middleton Construction as a full-service concrete company. As industry technologies progressed, we saw the opportunity to better serve our customers, purchasing our first laser screed in 1993. This purchase established Middleton Construction as a leader in the industry, enabling us to pour larger slabs at greater production speeds, resulting in higher quality, flatter floors.
In 1997, we made a substantial investment, purchasing aluminum wall forms. These particular wall forms integrated the latest technology which streamlined the construction process. Safer to use and versatile for elevations and heights, they produce architectural aesthetics at a much higher quality. This combination of industry advancements and company vision allowed us to focus in the industrial and commercial markets - becoming the leading concrete company in the midwest and beyond.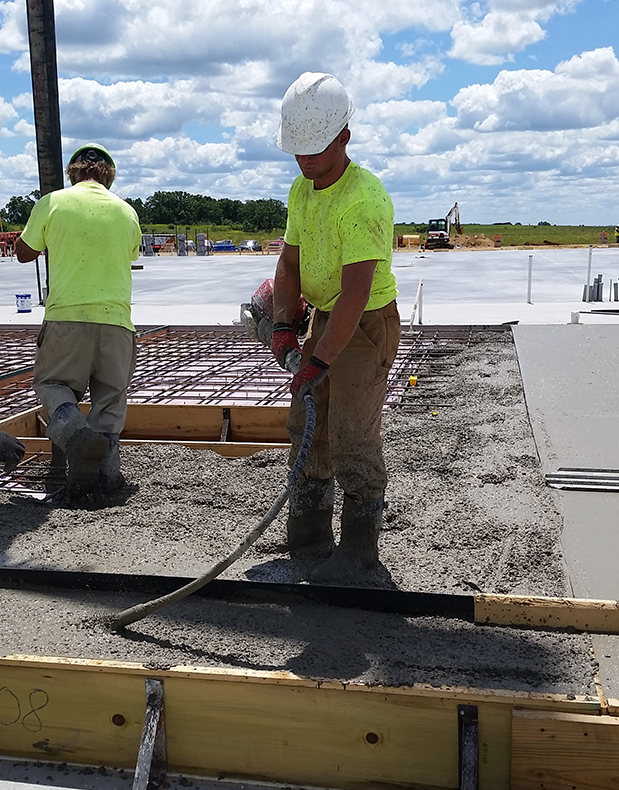 Industrial and Commercial Foundations and Flatwork
Building excellence through every stage of the project from footings to flatwork
Specialty Application Experts
Shake-On Floors
F-Number Floors
Decorative Concrete: Stamped, Stained and Exposed Aggregate
Previous Concrete
Post Tension
Authoritative Project Experience
Agricultural
Big Box Stores
Ice Rinks
Hi-Rise Decks
Schools
Retail
Distribution Centers
Financial Institutions
Waterparks
Much More!
Unmatched Performance
With a full line of equipment, including five laser screeds, we're able to efficiently deliver superior results on any size project.